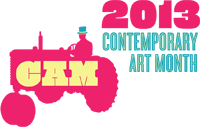 March 2013
Golden Years
Andréa Caillouet

Opening reception
March 2, 2013, 5 to 9 PM
Closing Reception
March 30, 2013, 6 to 9 PM
Special appearance by Flag Boy Twin of the Shining Star Hunters Mardi Gras Indian tribe, March 30, from 7 to 8pm.
These two artists, one a contemporary artist and one a folk artist, are originally from New Orleans. Both use beads and other ornamentation in their work.
"Last Chance: Andréa Caillouet and Flag Boy Twin at The Epitome Institute" by Scott Andrews, San Antonio Current, 29 March 2013

Golden Years (Pretty Bird), 2010 – 2011
Assemblage of costume jewelry, hand mirror, gold leaf, found afghan


The works in this exhibition were created by altering and reassembling items from the artist's late grandmother's extensive collection of costume jewelry and knitted afghans. Through this work the artist is exploring the relationship between people and their belongings and calling into question the dichotomies of desire and possession, selfishness and generosity, having and being.

Flag Boy Twin of the Shining Star Hunters in his 2010 suit
Photo: Gene Vandiver


The Mardi Gras Indian tradition is an African American tradtion from New Orleans, Lousiana that is over 100 years old. Each Mardi Gras Indian makes an elaborate beaded and feathered suit to wear on Mardi Gras day and in a parade in March called Super Sunday. A new suit must be made each year, which requries countless hours of sewing, hence the Mardi Gras Indian chant, "everybody gotta sew, sew, sew." The Mardi Gras Indians "mask," as they call the wearing of their suits, to honor the native Americans who sheltered their ancestors.
Prior to Hurricane Katrina, the tradition was not well known outside of New Orleans. Because so many Mardi Gras Indians moved away from New Orleans in the aftermath of the hurricane, it was feared that the tradition might not continue. It has survived in all its glory.
From children to seniors, everybody can enjoy seeing the artistry involved in this handsewn suit and learning about the rich, century-old tradition beind it.
Join us on March 2, 2013, from 7 to 8 pm for this rare opportunity to see Flag Boy Twin of the Shining Star Hunters show off the suit he made for 2013.
Epitome Institute, 222 Roosevelt Ave., San Antonio, TX 78210
Open hours listed on calendar and otherwise by appointment only.
Building photo by Mariionlad, available under a Creative Commons license. Derivative works licensed under same license.
This Site ©2013 Epitome Institute